Perfect Weep Holes from the Start!
Weep holes are essential in the construction of cavity brick buildings to ensure adequate ventilation and drainage. But they can also allow pests easy entry into homes and they are a proven entry point for embers during bushfire.
Using Weepas during construction ensures perfectly formed, functional and compliant weep holes, whilst preventing pest entry and providing protection from bushfires.
Why specify and install Weepas during construction?
They create perfect, clean weep holes during construction. No need to rake out, risking damage to the flashing which will compromise the drainage of the cavity.
They are a simple way to comply with all Bushfire Attack Levels (BALs): BAL-LOW, BAL-A12.5, BAL-A19, BAL A-29, BAL-A40, BAL-FZ.
Pests and vermin are excluded from the word go.
They are cost effective by saving the bricklayer time.
For render they give the solid plasterer a formwork so it's easy to create a beautiful weep hole instead of an ugly one.
The range includes options for face brick (with or without render), 90mm block (with or without render), Roman bricks and light weight panel.
They have been independently tested to ensure there is no obstruction to airflow, ventilation and drainage.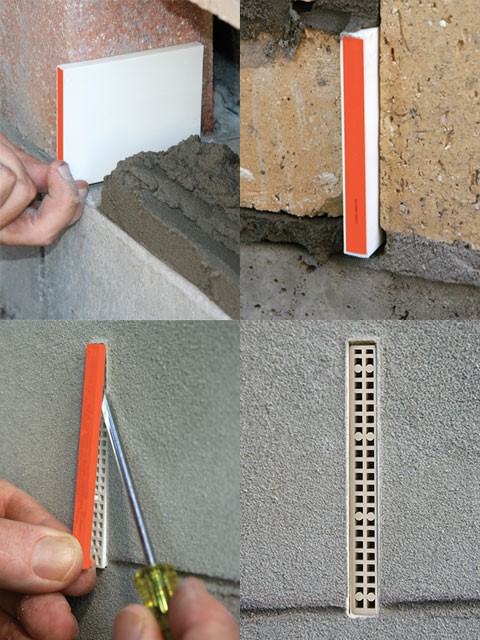 Weep holes - Statutory Regulations
Building requirements - The Australian Standard AS 3700-2018 for Masonry Structures Section 4.7.2 says "Weepholes shall be provided to drain moisture from or through masonry construction. Where flashings are incorporated in the masonry, weepholes shall be provided in the masonry course immediately above the flashing, at centres not exceeding 1200 mm."
Bushfire requirements - The Australian Standard for Construction in Bushfire Prone areas (AS3959:2018) stipulates that new builds in bushfire prone areas require weep hole protection to prevent ember attack. It specifies the requirements for ember screening to meet the various Bushfire Attack Level (BALs). Specific BAL requirement for Weepholes
Your Architect or Building Designer will cover these requirements on your plans. And, your Building Certifier will sign off on them on completion of the project.